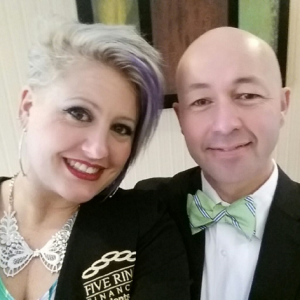 Most go to school for 12 to 16 years; we learn reading, writing and arithmetic, yet somehow, we never learn about how money works! Mara & Andre Simoneau are passionate about changing that fact. This couple has decided to dedicate their lives and careers to offering fun and approachable financial education nationwide. As Executive Vice Presidents of Five Rings Financial they are diligently expanding their company's financial vision through teaching Money 101 workshops and launching Wine, Women & Wealth communities across the United States.
Over the past seven years Mara and Andre have expanded the footprint of Money 101 and Wine, Women & Wealth into multiple markets across the country including Seattle, Ft. Myers, Atlanta, Poconos, New York City, Burbank, Austin, Scottsbluff and more. From major metropolitan cities to small farm towns they are passionate about ensuring that all Americans get the education they are seeking. This dynamic duo believes that if Middle Americans can get the education they need and want they will feel more confident and capable when making financial decisions and this will pass from generation to generation, shifting the financial landscape of our country. When we can get the education we need, we can make great decisions with our money, plain and simple.
Money 101 is a live workshop that is hosted each month in over 75 locations nationally. The workshop dives in to six key money principles, three to grow money and three to protect money. Mara and Andre feel that the principles taught in Money 101 are truly the financial foundation that every American needs. In fact, they believe it so strongly they have developed an online class that is now accessible to anyone in the country using a video technology called Zoom Meeting. With the help of Zoom over 5,000 Middle Americans have participated in the virtual version of Money 101. They host two to three live virtual workshops weekly, you can view the schedule on their website: http://lmtofinancial.com/virtualevents/. A few years ago, Andre told Mara that he would love to present Money 101 to a group every single day of the year, with the current growth trajectory that may happen sooner than later! They would love to have you join them to discover the six key money principles!
Wine, Women & Wealth is a women's community and networking event that was founded by Mara's mentor, Denise Arand. After a move from Colorado to California, Denise found herself needing to establish her budding financial business in a new state and really wanted to make new girlfriends. She thought, why not combine her favorite things, wine, awesome girlfriends and a great conversation about money. From four women sitting around a table in a wine bar in Carlsbad, CA to twelve years later over 100 nationwide communities, Wine, Women & Wealth has seen incredible growth and has supported women in building stronger relationships with their money and each other. Mara is actively launching new Wine, Women & Wealth communities across the country and would love to connect with you if you are interested in learning more about launching a community in your neighborhood! Email her at mara@lmtofinancial.com.
As a couple, Mara & Andre are often invited to speak to different organizations. This dynamic duo brings a blend of practical financial knowledge mixed with money mindset practices. They have been invited to speak to organizations including the Paul Mitchell Hair School in Denver, Entrepreneur Revolution Breakthrough Weekends, The Payroll Association Regional Conferences, Barnes Masonry Company in Denver, New York Police Department, National Association of Independent Schools, National Association of Insurance Professionals, Regional Toastmasters Conferences and more. Their passion for financial education and zest for life bring a fresh approach to a topic that desperately needs new eyes.
Connect with Mara & Andre Simoneau on LinkedIn and Facebook, they'd love to chat with you about connecting you with one of their workshops or speaking to your group about their fresh approach to financial education. hello@lmtofinancial.com. Life Made to Order Financial is an agency of Five Rings Financial. Check out their website to learn more about Living Your Life Made to Order: http://lmtofinancial.com.